About this episode
Dannick Studios
first made "Guard???" in 1998 using the trial version of
Microsoft 3D Movie Maker
. One limitation of the trial version was only being able to choose from 2 possible actors: Bongo or Nakita (and a small number of costume choices). Another limitation: the inability to save your movie. As a result, this segment was remade and rescreened multiple times over several months until Dannick Studios finally obtained a full copy of
3D Movie Maker
.
In September 2001, the premiere was extended with "
Bongo Quickie
" segments, an homage to the "Garfield Quickie" segments in the animated series
Garfield and Friends
, which Nick and Teddy Phillips frequently watched in the mid to late 1990s. However, neither "Bongo Quickie" segment is an original work; both are copied from sample
projects
that were included with the
3D Movie Maker
program.
At the behest of a dedicated cult following, the
3D Movie Maker
source code, including the sample code, was finally released by Microsoft as open source in 2022, eliminating any lingering questions about licensing for movies created with the program, and enabling us to release this episode largely uncut.
Because
3D Movie Maker
was designed for use under Windows 95 and didn't actually output video files, generations of hardware and operating system changes have meant that movies created on old systems tend to play differently on newer systems. Apart from upscaling, smoothing the choppy 6 frames-per-second animation, and attempting to clean up the heavily compressed dialogue, some small changes were made to the episode to correct timing issues, which may or may not have existed originally, and to improve text legibility. The original credits sequence has been removed in favor of one that is actually readable.
Earlier this year, we were happy to announce that
The Adventures of Bongo and Nakita
would return this fall. Today, we can reveal that the first episode will drop on September 26.
In anticipation, we are releasing a shot-for-shot remake of a lost television…
Read more
Twenty years ago this past week - at 2 PM on Saturday, August 17, 2002 - the first ever episode of
Ni-Ki-Oh!
aired. The
series
combined documentary and fictional scripted and retroscripted content, as we followed a boy named Niki participating in a real local Duel Monsters
card
tournament, where most other participants had also taken on personae inspired by characters from the
Yu-Gi-Oh!
anime. Beginning with this tournament, for a time,
Ni-Ki-Oh!
was a way of life for all involved.
Ni-Ki-Oh!
ran for over 2 seasons from 2002-2004, oscillating between being a
parody
of
Yu-Gi-Oh!
and forging its own path. With the first season's airing, the world only began to see the height of the
Ni-Ki-Oh!
craze, with the appearance of various spinoffs, promotional TV spots, brands allegedly "sponsoring" the show, music videos, and people clamoring for a chance at a guest appearance.
Ni-Ki-Oh!
entered hiatus during the middle of the 3rd season and never returned, despite never being officially cancelled, suffering from principal scheduling conflicts, as well as problems in post-production. In all, 22 episodes aired in special screenings, although photography for 28 was nearly completed, with 7 more having been scripted -- well short of the 98 episodes that had been outlined. 4 specials aired in various venues, and countless other features and featurettes, such as cast interviews and vanity Duel Monsters cards, were made available through
Ni-Ki-Oh!
DVDs.
Over the years, many episodes have received multiple versions. Most notorious of these versions was of the first season, whose VHS master was lost, leading to completely different edits for the aptly named DVD release of
Ni-Ki-Oh! The Lost Episodes
in 2004. The original season was presumed lost until it was rediscovered again in 2022.
In celebration of
Ni-Ki-Oh!
's 20th birthday, we will be releasing high-definition anniversary remasters of the beloved series Saturdays after 2 PM. Famously, series cast member Joseph Justus joked in an interview that
Ni-Ki-Oh!
had "like no special effects." For the anniversary editions, all episodes have been re-edited as they were first imagined -- no longer constrained by budgetary or technological limitations -- using AI, improved sound design, and modern visual effects. But when appropriate, we will also be releasing remasters of the previous edits as well, for a comparison of how the series has evolved over time.
Today, we unveil the 20th anniversary edition of season 1 episode 1, entitled "
No One to Duel
." Creators frequently described that this episode was shot as an equipment test for a then days-old 8mm video camera, and that the show was only conceived for series after the fact. As such, this episode contains sequences using a variety of in-camera effects, as well as long durations of out-of-focus footage.
Finally, we would be remiss if we did not pay respect to
the creator
of the
Yu-Gi-Oh!
story, Kazuki Takahashi, who sadly passed away this summer at the age of 60. His work was our inspiration, and he will always hold a special place in our hearts.
TV-14
:
MV
Seizure warning!
This program contains flashing lights.
As of this morning, we have officially migrated to new server hardware. We attempted to do so with as little service disruption as possible, taking the sites down for about 1 hour this morning; however, some users may have noticed various services being…
Read more
We have offered video content on the
web site
since 2005, with the intro shortly after launch, and gradually releasing
productions
from our archives beginning in 2008. However, in all the 16+ years since, it was never possible to view that content on mobile…
Read more
Roughly one full year since we closed the
web site
for updates, the
Cracked Egg Studios
web site has finally reopened its doors!
The underlying software we use has been changed from vBulletin to XenForo. The previous software was no longer supported by…
Read more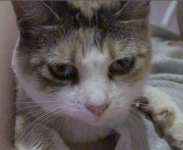 BRONX, NY - Feline Serebii Phillips, having recently returned to her childhood home from years traveling, died earlier this afternoon at age 18. She was born September 13, 2000 in her parents' home in Bronx, New York. Serebii was an avid hugger and enjoyed donuts and sleeping on windowsills. At a young age, she became known for her eponymous supporting roles in the Ni-Ki-Oh! television franchise and Prince Dittonian musical trilogy. She moved, with her favorite human, grandmother Clare, to Illinois in 2012, and to Minnesota in 2014, where she lived until returning to the Bronx earlier this year.
Serebii was predeceased by her brothers Ditto and Igglybuff; sister Meowth; parents Janya and Mew "Pity Nobleduck"; and numerous step-siblings and cousins. She is survived by her great-grandmother Kathy (late John); grandmother Clare; great-uncles Nick and Ted (Diana); great-uncle Squawker Jalawker; aunt Diddy; and others; all of the Bronx.
She has now truly moved beyond time.