Back in 1998,
Nick Phillips
produced a number of popup shorts -- that is, videos that were produced, aired once, and disappeared. In 2000-2001, many of these were revived as a
series
called
The Adventures of Bongo and Nakita
by an upstart production company called
Dannick Studios
, remade, and extended with new episodes; however, in early 2003, this content was lost again during a systems migration.
Several years after the company's merger with
Cracked Egg Studios
, at
EggCon 2009
, it was announced that
The Adventures of Bongo and Nakita
would be remade (again) from scratch and soon be given an internet release. Prep work did not begin until 2011 and like all other Cracked Egg Studios
projects
at the time, work all but halted in 2012.
Fast forward to 2022: in going through our archives, digitizing old content, and creating fresh backups, on a backup disc labeled for something else entirely that was unreadable and required data recovery, we found a hidden directory that of all things contained the files from that 2000 remake.
And now we can announce that Cracked Egg Studios is finally going to make good on that promise from
EggCon
way back in 2009. This fall, we will be rereleasing all 5 episodes from the 2000 remake of
The Adventures of Bongo and Nakita
, remastered for 2022. Fan favorites like "Nakita's Pocket Pita" and "Nakita in Space" will again available for all to see!
That's not all -- the previously unreleased season finale will, now over 20 years later, finally be completed and receive its world premiere.
Don't miss it this fall!
As of this morning, we have officially migrated to new server hardware. We attempted to do so with as little service disruption as possible, taking the sites down for about 1 hour this morning; however, some users may have noticed various services being…
Read more
We have offered video content on the
web site
since 2005, with the intro shortly after launch, and gradually releasing
productions
from our archives beginning in 2008. However, in all the 16+ years since, it was never possible to view that content on mobile…
Read more
Roughly one full year since we closed the
web site
for updates, the
Cracked Egg Studios
web site has finally reopened its doors!
The underlying software we use has been changed from vBulletin to XenForo. The previous software was no longer supported by its developers, making it difficult to keep other parts of the site updated without causing errors, and moving to the more developer-friendly architecture of XenForo has been something we have wanted to do for the better part of a decade. With the software change also comes a long-overdue update to the appearance of the web site.
Since Adobe discontinued support for Flash, it had started to become difficult to watch many of our existing videos. So we have completely rewritten the video player, entirely using HTML5 and Javascript. We have also regenerated all the video files themselves to use the more modern and web-friendly WEBM format.
In the process of regenerating the videos, we have temporarily taken down several where licensing had expired or otherwise come into question, including the popular
Free United Club of Kids
(released 2005) and
The Twisted Mile
(released 2006). In the coming weeks, once the lingering issues are resolved, we will be re-releasing remasters of the affected videos.
We have also completely rewritten our shop to allow for an overall better experience, including more payment options, the ability to save payment methods, dynamic calculation of shipping options, and more accurate handling of sales tax. We will be relisting various merchandise over the next several days.
During the hiatus, we spent a good deal of time going through the archives, and we have found a whole slew of content that never made it onto the web site, including a number of unreleased items, and others that have not been seen by even the most devout fans in over twenty years! We will be rolling that content out throughout 2022, and we will announce it all here when it happens.
Thank you to our fans for being patient while we were gone, and for being so dedicated throughout the years. We hope you enjoy the new site.
For your enjoyment, here's the original Cracked Egg Studios web site intro video, which was created in November 2004 and played as the site's landing page from 2005-2007.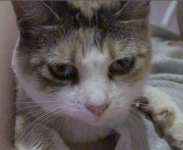 BRONX, NY - Feline Serebii Phillips, having recently returned to her childhood home from years traveling, died earlier this afternoon at age 18. She was born September 13, 2000 in her parents' home in Bronx, New York. Serebii was an avid hugger and enjoyed donuts and sleeping on windowsills. At a young age, she became known for her eponymous supporting roles in the Ni-Ki-Oh! television franchise and Prince Dittonian musical trilogy. She moved, with her favorite human, grandmother Clare, to Illinois in 2012, and to Minnesota in 2014, where she lived until returning to the Bronx earlier this year.
Serebii was predeceased by her brothers Ditto and Igglybuff; sister Meowth; parents Janya and Mew "Pity Nobleduck"; and numerous step-siblings and cousins. She is survived by her great-grandmother Kathy (late John); grandmother Clare; great-uncles Nick and Ted (Diana); great-uncle Squawker Jalawker; aunt Diddy; and others; all of the Bronx.
She has now truly moved beyond time.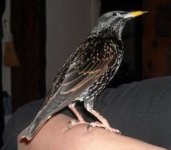 STEPHEN, MN - Early this morning, starling
Poop "Pi" Jaloop Phillips
died peacefully at his home from unknown causes. Poopy was born in May 2007 in Bronx, New York. As an infant, he was rescued and adopted by Kathy Phillips and her family. Poopy was known for his fondness of the Resident Evil franchise and the sound of running water. He was the face of the Cracked Egg Studios logo, and he was considered for the host of an unrealized Cracked Egg Studios celebrity talk show called
Life with Poopy
and as the star of the comedy
The Poopy and Crappy Show
. He moved to Minnesota in June 2014 to be closer to his mother.
Poopy was predeceased by his spouse
Crappy
; starling brothers Trash, Garbage, and others; his fish brothers Glimmer and Glimmer II; his feline brothers Gray Kitty, Janya (late Mew "Pity Nobleduck"), Mewtwo, and Thomas (famed
Ni-Ki-Oh!
); his feline sisters Little Kitty, Pinky, Black Cat, Mouse, and Smokey; his canine brother Buddy, sister Sheba (late Sam), and two nieces/nephews by her who died young; his canine niece Blackie (famed
Black's Tracks
) and feline niece Meowth; his canine nephew Whitie; his feline nephews Chansey, Screamer, Ditto, and Igglybuff, the latter two of Prince Dittonian fame. He is survived by his mother Kathy and niece Serebi (famed
Ni-Ki-Oh!
) of Stephen; brothers Nick and Ted, sister Clare, and African Gray brother Squawker Jalawker, all of Bronx.
As many of our customers noticed, all web sites operated by
Cracked Egg Studios
, LLC, including CrackedEggStudios.com, were unavailable from December 18 - December 24, 2013.
Server Compromise
On December 12, our server began experiencing database corruption and by December 14, we learned that our IP address had been added to a number of email block lists. We spent the next few days investigating and our host found that a virus had hijacked our internal Tomcat instance and changed its security settings so that it could bypass our mail software to send SPAM.

On December 18, our web sites were replaced with a generic maintenance message suggesting we would be back in a few hours. Unfortunately, the infection was more persistent than initially thought, so our host's estimate of 6 hours quickly turned into the better part of a week.
How This Affects Users
While there was no evidence that the virus or an unauthorized user had accessed sensitive information (in fact we believe the virus simply propagated from an infected workstation that was connected via SSH), we recommend that any users who submitted any Install, Upgrade, or Import service requests during the month of December should change their site and FTP login information where possible. If you have ever purchased one of these services before December and want to be extra cautious, please do not hesitate to do the same.

We suggest that all users on our sites reset their passwords as soon as they are able.
Changes to Our Implementations
With this recent event, we noted some ways that our server security could be increased and have already done so.

In addition, we will be adding another level of separation to the services that were affected by this infection. Moving forward, we expect to move some internal software to a completely separate Amazon server that can achieve the same functionality without having Tomcat installed at all. Further, we intend to begin processing email traffic through an off-server service as well. These changes should begin rolling out during January.