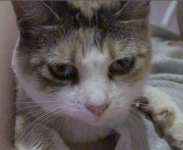 BRONX, NY - Feline Serebii Phillips, having recently returned to her childhood home from years traveling, died earlier this afternoon at age 18. She was born September 13, 2000 in her parents' home in Bronx, New York. Serebii was an avid hugger and enjoyed donuts and sleeping on windowsills. At a young age, she became known for her eponymous supporting roles in the Ni-Ki-Oh! television franchise and Prince Dittonian musical trilogy. She moved, with her favorite human, grandmother Clare, to Illinois in 2012, and to Minnesota in 2014, where she lived until returning to the Bronx earlier this year.
Serebii was predeceased by her brothers Ditto and Igglybuff; sister Meowth; parents Janya and Mew "Pity Nobleduck"; and numerous step-siblings and cousins. She is survived by her great-grandmother Kathy (late John); grandmother Clare; great-uncles Nick and Ted (Diana); great-uncle Squawker Jalawker; aunt Diddy; and others; all of the Bronx.
She has now truly moved beyond time.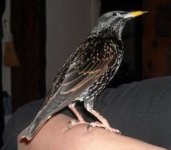 STEPHEN, MN - Early this morning, starling
Poop "Pi" Jaloop Phillips
died peacefully at his home from unknown causes. Poopy was born in May 2007 in Bronx, New York. As an infant, he was rescued and adopted by Kathy Phillips and her family. Poopy was known for his fondness of the Resident Evil franchise and the sound of running water. He was the face of the Cracked Egg Studios logo, and he was considered for the host of an unrealized Cracked Egg Studios celebrity talk show called
Life with Poopy
and as the star of the comedy
The Poopy and Crappy Show
. He moved to Minnesota in June 2014 to be closer to his mother.
Poopy was predeceased by his spouse
Crappy
; starling brothers Trash, Garbage, and others; his fish brothers Glimmer and Glimmer II; his feline brothers Gray Kitty, Janya (late Mew "Pity Nobleduck"), Mewtwo, and Thomas (famed
Ni-Ki-Oh!
); his feline sisters Little Kitty, Pinky, Black Cat, Mouse, and Smokey; his canine brother Buddy, sister Sheba (late Sam), and two nieces/nephews by her who died young; his canine niece Blackie (famed
Black's Tracks
) and feline niece Meowth; his canine nephew Whitie; his feline nephews Chansey, Screamer, Ditto, and Igglybuff, the latter two of Prince Dittonian fame. He is survived by his mother Kathy and niece Serebi (famed
Ni-Ki-Oh!
) of Stephen; brothers Nick and Ted, sister Clare, and African Gray brother Squawker Jalawker, all of Bronx.
As many of our customers noticed, all web sites operated by
Cracked Egg Studios
, LLC, including CrackedEggStudios.com, were unavailable from December 18 - December 24, 2013.
Server Compromise
On December 12, our server began experiencing database corruption and by December 14, we learned that our IP address had been added to a number of email block lists. We spent the next few days investigating and our host found that a virus had hijacked our internal Tomcat instance and changed its security settings so that it could bypass our mail software to send SPAM.

On December 18, our web sites were replaced with a generic maintenance message suggesting we would be back in a few hours. Unfortunately, the infection was more persistent than initially thought, so our host's estimate of 6 hours quickly turned into the better part of a week.
How This Affects Users
While there was no evidence that the virus or an unauthorized user had accessed sensitive information (in fact we believe the virus simply propagated from an infected workstation that was connected via SSH), we recommend that any users who submitted any Install, Upgrade, or Import service requests during the month of December should change their site and FTP login information where possible. If you have ever purchased one of these services before December and want to be extra cautious, please do not hesitate to do the same.

We suggest that all users on our sites reset their passwords as soon as they are able.
Changes to Our Implementations
With this recent event, we noted some ways that our server security could be increased and have already done so.

In addition, we will be adding another level of separation to the services that were affected by this infection. Moving forward, we expect to move some internal software to a completely separate Amazon server that can achieve the same functionality without having Tomcat installed at all. Further, we intend to begin processing email traffic through an off-server service as well. These changes should begin rolling out during January.
Yesterday we moved the
Cracked Egg Studios
web site
to share a dedicated server with the other sites we own. Since we no longer share a server with 100 random sites, and since we've made other performance improvements, this means a faster, more accessible experience for our fans.
While I'll spare everyone from the technobabble, the various changes have yielded speed improvements on the server side by over 70%, and on the client side by about 40%.
An entire month after EggCon, we have finally added video coverage of the event to the article (
EggCon 2009
). This was delayed due to both hard drive failures last month and a need to add new functionality to the
EggPlayer
first.
The EggPlayer, the …
Read more
On September 5, 2009,
Cracked Egg Studios
held its first annual convention called
EggCon
. Employees and fans alike gathered to celebrate previous years' achievements and to discuss the direction the company is going in the next 12 months. The event…
Read more
Since launch in May 2005,
Cracked Egg Studios
has only ever had a very black style. Although software and programming methods changed, the look of the site remained very much the same.
The site has now completely shed itself of the "dark" style,…
Read more